Back
PRE-ORDER: TRAITWELL WGS DNA TEST
Whole genome sequencing (WGS) is a technique that decodes 100% of your DNA. That means decoding all 6.4 billion DNA base pairs in your genome including the complete set of all 20,000 genes, mitochondrial DNA, and the Y chromosome. That means WGS gets all the large and small genetic variants that might be missed with genotyping you get from 23andMe and AncestryDNA.
Our WGS DNA Test analyzes your entire genome and is now available for pre-order.
We expect to ship this item for arrival by the end of summer 2023. We will not charge your card for this item until it ships. You may see a pre-authorization check on your card, but it is not a charge for this item.
---
Now available for pre-order.
Our at-home Whole Genome Sequencing DNA Test is a simple and easy test you can do from the comfort of your home. Spit into the provided tube, register your kit, and mail the saliva sample back to us in the prepaid package. You'll get results in 3-6 weeks.


Decode 100% of your DNA. Genotyping services like 23andMe, Ancestry, and My Heritage analyze less than 0.02% of your DNA. Our Whole Genome Sequencing DNA Test analyzes the whole thing – that means you get information on ALL your genetic markers, not just the ones Big Pharma is interested in.
Learn how your genes influence over 100 appearance, personality, wellness, and health traits. See what your DNA might have to say about these traits – and compare them with results from your family and friends.
Get lifetime access to new trait reports – as genomic science advances, we will put that information into your hands.
Your sample and data do not leave the U.S., and your information is protected with industry-grade security.
Free shipping on all U.S. orders.
What you get:
Saliva sample collection kit
Full DNA sequence (digital format)
Lifetime access to Traitwell reports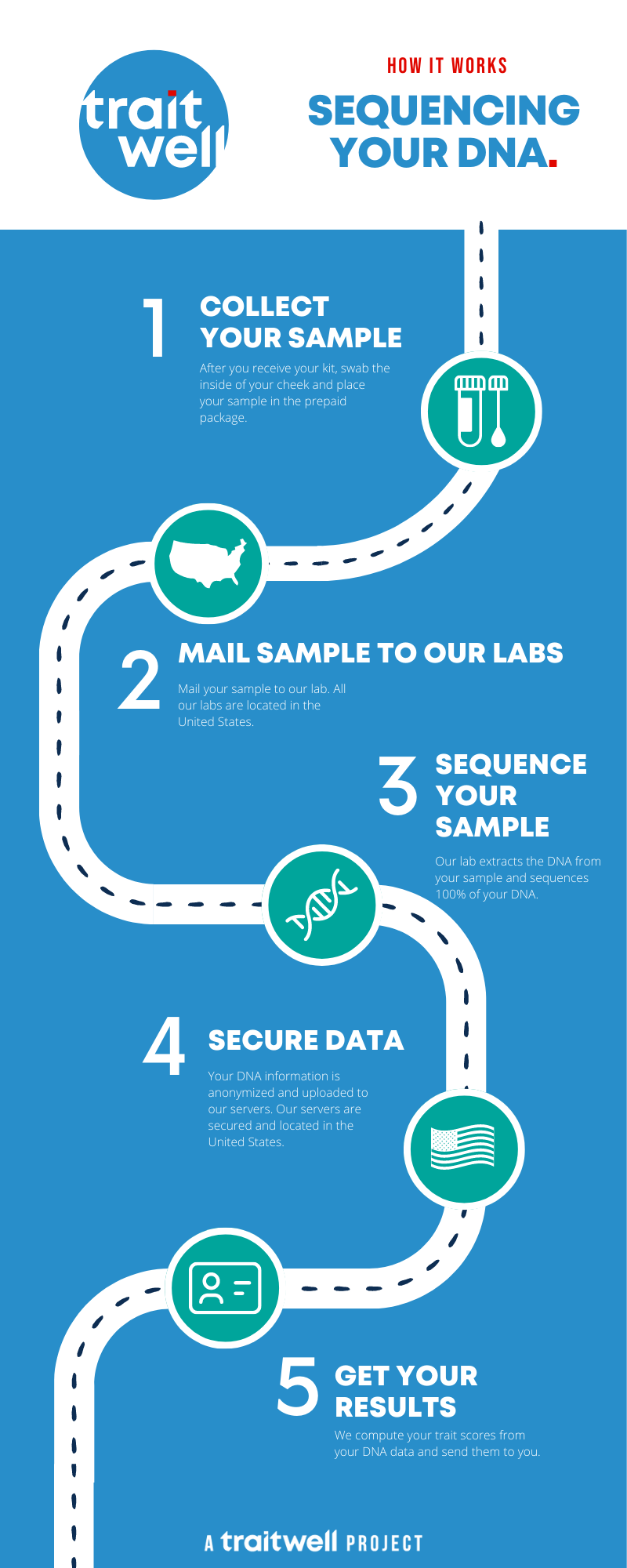 DISCLAIMER: TRAITWELL PRODUCTS PROVIDE INSIGHTS ABOUT GENETIC PREDISPOSITIONS AND PERSONAL TRAITS FOR INFORMATIONAL AND EDUCATIONAL USE AND ARE NOT INTENDED TO DIAGNOSE OR TREAT ANY CONDITION. OUR APPLICATIONS PROVIDE SCORES BASED ON YOUR shared CHARACTERISTICS BY INTEGRATING THE LATEST GENOMICS RESEARCH. OUR TESTS ARE NOT INTENDED TO BE A SUBSTITUTE FOR PROFESSIONAL MEDICAL ADVICE, HELP, DIAGNOSIS, OR TREATMENT. EDUCATIONAL USE ONLY